Saul Alvarez will face the opponent the fans demanded of him. Dmitry Bivol was on the list of those who could potentially deal with the Mexican, although now everyone is again trying to belittle his skills by comparing him to Canelo.
Why and why is not clear. Bivol can win. He really needs to have the perfect fight for that. Such is the fate of the opponent of the best boxer in the world at the moment.
Alvarez goes for legacy. Bivol is an important point in it
Saul has recently added Lomachenko's style to his rhetoric. There is a lot of talk about heritage, about a place in history and about the fact that he is not afraid of anyone, and that is why he comes out only against the best. Avni Yıldırım is now shocked that he made the list of the best.
But, to be objective, Saul really fights with the best or similar fighters. Similar until they get into the ring with Alvarez. Moreover, often Billy Joe Saunders, Callum Smith or Daniel Jacobs, long before the meeting with the Mexican, were called perhaps the main threat to him, and right before the meeting it turned out that they had many disadvantages. In the ring itself, Saul demonstrated these disadvantages.
But Canelo really fights top fighters, there is no point in objecting. Another question is that they all look as if there is only one top athlete in the ring, and the other just went out for money. For all the time after Floyd Mayweather, there are only a few sagging in Alvarez's record, like the already mentioned fight with Yildirim, but there is an explanation there too – Avni was a mandatory contender for the belt and had to go into the ring with him. Saul did not fuss, did not waste time. I just broke the opponent without options, and that's all.
So why then did everyone want Bivol or Beterbiev? The first factor is that Alvarez climbed up to light heavyweight. It would seem that the test is strange and terrible – there are really big guys there, but Saul chose his opponent wisely. Sergey Kovalev was the top fighter in the division for many years and then went into decline, where Canelo caught him. Both literally and figuratively.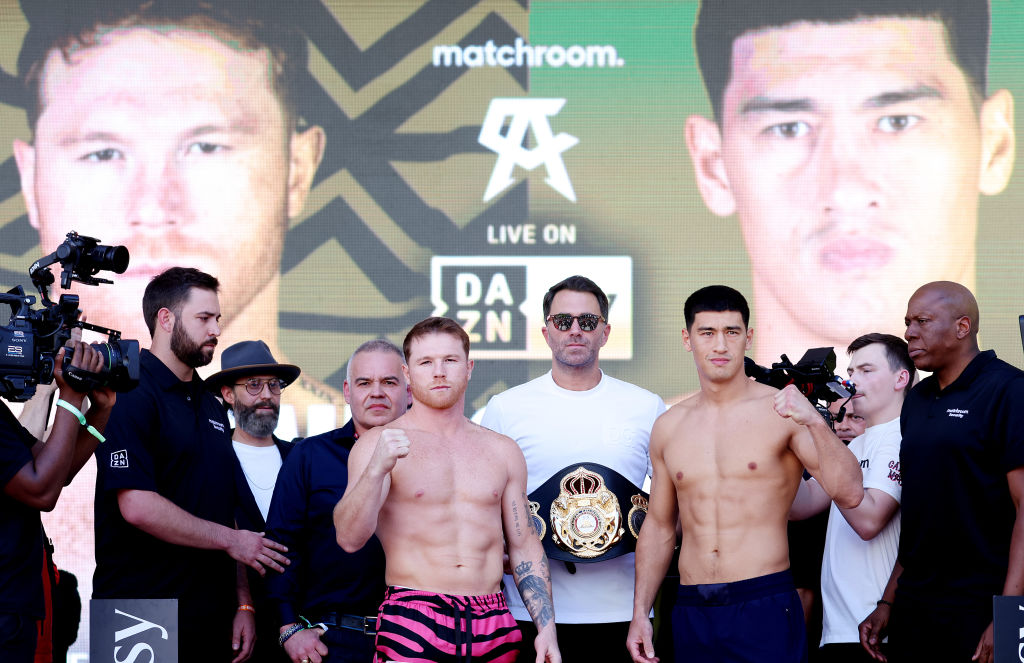 Did Saul look good in that fight? By its standards, normal, no more. Alvarez attacked little compared to what he usually does, and aimed more than he tried to outbox. Canelo felt powerful, but didn't seem to feel able to box actively all twelve rounds.
Kovalev did not manage to run away – the left side and the right straight line found him in the championship rounds. the Russian did not last one and a half rounds, went to a knockout, and then told for a long time that everyone who believed that he would win was, to put it mildly, not very smart. In general, it is not very reasonable to support a Russian.
Bivol, on the other hand, is an undefeated champion, bigger and trained enough in boxing to set his opponent on fire. Everyone, of course, would like to see Saul against Beterbiev – because this is a crazy fight at a medium distance, but that's later.
Dmitry was considered and is considered to be the opponent who has something to oppose to Alvarez. If rivals of similar size can't cope with the Mexican, you have to release someone bigger against him. And not like Rocky Fielding – this is another slack in the record and a fight for show. And someone who knows how to box. Bivol – knows how.
So who's the favourite?
Here everything is unchanged. Mexican, and even with a margin. 1.20 on Canelo, on average. 4.3 – to Bivol. To a champion, a born light heavyweight who will once again defend the belt against a smaller counterpart, yes.
The quotes are justified because we have forgotten the last time we believed in Alvarez's opponent more than in him. It was only in 2013 that Floyd set the stage for the breaking of a young star. Then everything was either equal (only a few times), or strongly in favor of Canelo (almost always).
But Bivol is really a boxer who can win. He really is more. The same age as Saul, and not the old and battered Kovalev. But most importantly, he knows how to box. Dmitry moves, combines well and jabs well. Knows how to stop an opponent, fail. He is very mobile and non-standard. It is with such rivals that Canelo is most difficult.
Will all this work? Here it will depend on two factors: will Bivol do his best work, will it be enough under the pressure of Saul. Dmitry knows how to catch an opponent on mistakes, stop and work on counterattacks. Everything you need to defeat Alvarez. But the Russian has never met with such smart and constant pressure. He might just break it.
On the other hand, if Saul delays, the second half of the fight will be more difficult than with Kovalev. For Bivol will not run out of steam so easily, and it will not be easy to catch up with him in points. Therefore, you need to work right away.
The main task of Alvarez is to stop Bivol at the ropes. Clamp it there and work it until it breaks. Where Dmitry is not perfect is at close range. This is the path to a spectacular victory for the Mexican and a place Bivol should avoid. Because he will not hear the final gong, just like his colleague in the state 404.
Saul Alvarez vs Dmitri Bivol will take place on Saturday nights on sunday, May 8th in Las Vegas. Approximate start of the battle at 06:00 Kyiv time.