Saul Alvarez lost for the second time in his career. Both times – on points, but this time closer than in the duel with Mayweather. However, there is a feeling that the first time Canelo did everything he could, and the second time he was lazy and did not do everything he could.
Either self-confidence, or the belief that they would give the victory even with a small advantage, but Bivol did everything, but Saul did not.
Alvarez imposingly walked around the ring while the opponent was working. The Mexican himself gave the victory
Saul Alvarez usually harnesses for a long time. We noted this in the announcement of the event, and in principle this is a well-known fact. Canelo does not force things, but calmly presses and breaks the opponent with power until they create such pressure on him that it will not be possible to endure.
Logic dictated that it would not be possible to act against Bivol in the same way. Just because of the nature of the opponent – he is too big and mobile to think that it will be possible to walk around the ring, throwing punches from time to time. But that's exactly what Saul did.
Alvarez showed that he did not feel the opponent's blows, although it was clear that this was not the case, and tried to catch him hard towards him. Whether it was possible – it is visible on consequences.
Somewhere in the middle of the fight, the meeting looked really competitive. The Mexican intercepted the opponent's attacks, Bivol intercepted the opponent's attacks. A real confrontation and a test for Alvarez. Canelo gradually got used to the attacks of his counterparts, more and more he moved away from them with his body, although he received decently. Dmitry looked closely at the distance from which to attack, and regularly punched in series.
Due to the size and frequency of attacks, Bivol managed to keep the opponent where he wanted. However, Canelo was more focused and the fight looked more even than in the second half.
After the sixth round, Bivol not only didn't get tired or gave up, but also continued to hit his opponent with the same activity. His blows were not too heavy, but because he himself is a big guy compared to his opponent, they felt great. Saul had to retreat and work even as the second number.
But Bivol was in no hurry to go there either. While the Mexican called the opponent closer, he kept him on the jab, and threw a combination of five to seven punches to try to get close, after which he left the line of attack.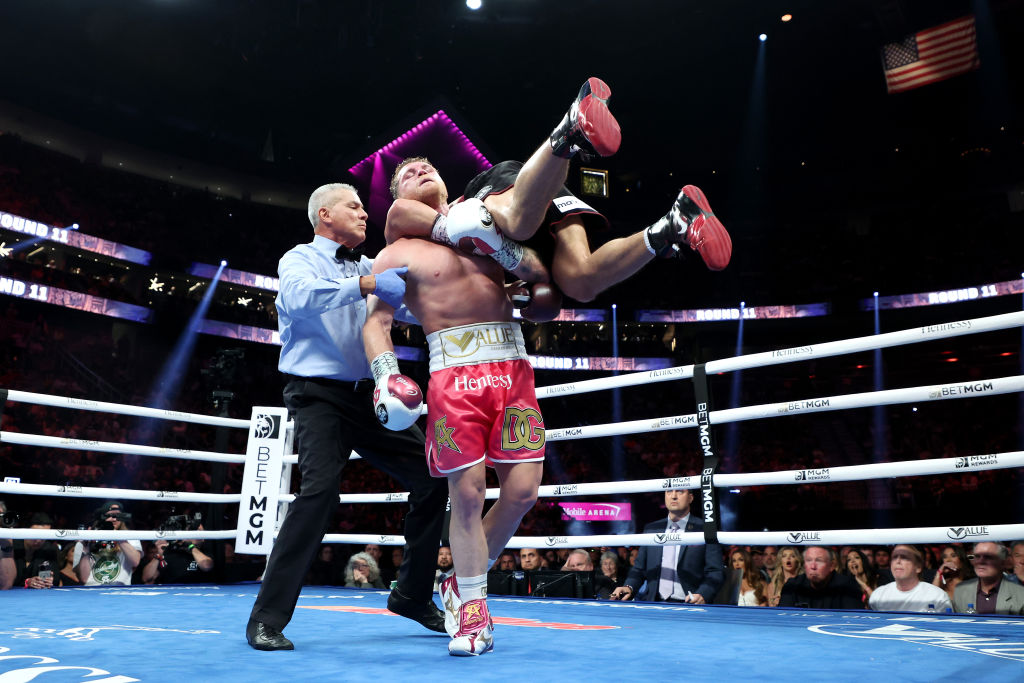 Alvarez and Eddie Reynoso did not change the plan until the end. You just go ahead and hit hard. Whether it hits the target or not is the third question. And it didn't hit. During the entire fight, Saul took out the head and torso of the opponent, maybe four times. Yes, it was annoying. Everything else went either somewhere close, or into the block, or past – because of Bivol's good footwork. In the block – most often. It turned out to be quite simple for Dmitry to block from a small opponent, who forgot about direct blows and leaned on power side and uppercuts. The hands turned red, but did not fall off, although the challenger hit them until the last round.
In the twelfth round, in the last seconds, there was almost an exchange. But Bivol turned out to be cold-blooded here too. Failed, moved away, did not allow himself to be reached.
Final score 115-113 on three notes. It seems that everything is fine, but if they had not given Dmitry the last round, it would have been a draw. Funny. Perhaps the judges know better, but Saul did not do enough to win, no matter how you look at it.
What's next?
Let's start with the fact that Alvarez is confident of victory. He says that he lost 4-5 rounds at most. As if this is not enough:
"I don't make excuses. I felt like I won the fight. I think I may have lost four or five rounds, but I definitely didn't lose the fight. Maybe the weight was a bit of an issue and made me feel less than 100%," Canelo said in a post-fight press conference.
Perhaps after watching the fight in the replay, his opinion will change. If not, it's bad, because Saul wants revenge, and without failure analytics, there will be no victory.
Revenge should be, although not required. Canelo wants a second fight, Hearn said it's not a mandatory item, but a rematch could happen if there's an attractive financial component to it. You can't take that away from Canelo.
Another question is what will Alvarez do? Can he box differently? Because it's clear that he won't be able to knock out Bivol in this way. You have to either fight him in the middle, where he does not want to go, or pull him out for a blow, which is very difficult. Or change the plan. Saul has the ability to change it, but whether he understands the need for this and whether he wants to is a big question.
It's important for Eddie Reynoso to redeem himself. So far, he has only failures in 2022. Revenge, if there will be, then this year. Therefore, the best coach in 2021 has a chance to work out all the shortcomings and solve this issue.
Or write down a third defeat on the account of your student. Because you should not climb where physical capabilities do not allow. And even more so, without resolving the issue here, to talk about the transition immediately to heavyweight. Well, at least it wasn't Fury who challenged him.