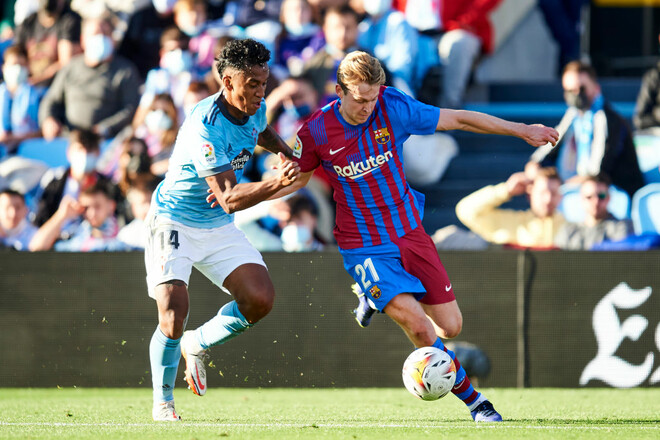 On Tuesday, May 10, in Barcelona at the Camp Nou stadium, the match of the thirty-sixth round of the Spanish Football Championship will take place, in which Barcelona and Celta Vigo will play. The starting whistle of referee Miguel Angel Ortiz Aryas will sound at 22:30 Kyiv time.
Barcelona
The face-to-face confrontation between Catalan Barcelona and Real Madrid in the standings at the end of the current season has already been left behind, so now the Xavi team is only concerned about the issue of the final second place. In the UEFA Champions League next football year, the Blaugranas will definitely take part, so the biggest fear in the hearts of their fans has not come true. It remains only to finish the season with honor, and then something to think about with the next transfer campaign in conditions of significantly limited finances.
Barcelona have three games left to play before the end of the league season, but all of them will be played against far from the most convenient opponents. Historically, the Catalans have not played very confidently against Celta, but until last season, this, in most cases, concerned only away matches. Almost a year has passed since the 1-2 loss to the Celts at the Camp Nou, so Xavi will also have to make up for one of the failures of his predecessor, Ronald Koeman, in the past.
Celta
This season for the team of Edouard Coudet has become another example of how Celta can ruffle the nerves of La Liga favorites, but at the same time they themselves will be content with a place somewhere in the middle of the table. At one time, representatives of the city of Vigo were near the European Cup zone, but then they were brought close to the relegation zone. In general, the classic dynamics of the "Celts" as a team that always plays for three results.
Until the end of the season, Celta will expect a meaningless match against Yelche and an away battle against Valencia for places slightly higher relative to the equator of the standings. Understanding the ambitions of Koudet, we can say that the season for his team is not over yet, but its current condition leaves much to be desired. Defeating an outsider in the face of Alaves (4:0) is not such a difficult task, but losing points in matches against their direct pursuers like Granada (1:1) and Getafe (0:2) – this has already raised questions.
Estimated compositions

"Barcelona": ter Stegen – Alba, R. Araujo, Garcia, Dani Alves – Puig, F. de Jong, Gavi – Ferrand, Aubameyang, Dembele.
Celta: Dituro – Galan, N. Araujo, Aidu, Vasquez – Beltran – Servi, Suarez, Mendez – Galardo, Aspas.
Forecast for confrontation
We believe that in the upcoming game, Xavi will do what his predecessor, Sergi Barjouan, failed to do earlier this season. Our bet will be the position – Handicap. Barcelona (-1.5) with a coefficient of 2.08 through the Parimatch line.
May 10, Tuesday
Barcelona – Celta
Barcelona. "Camp Nou". 22:30
Live TV broadcast – MEGOGO video service
Arbitrator: Miguel Angel Ortiz Aryas (Spain)
Forecast Sport.ua – 3: 1