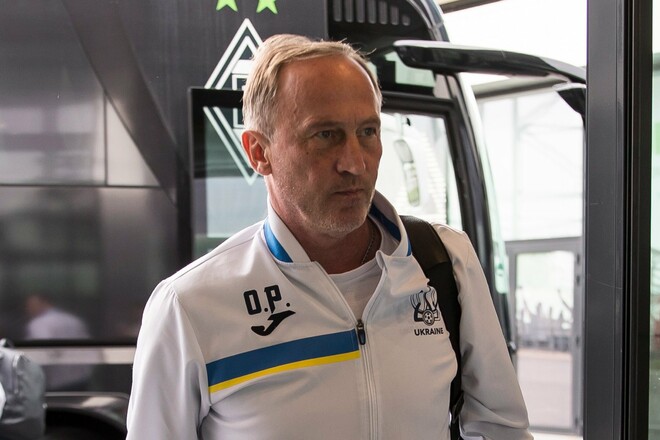 Head coach of the Ukrainian national team Alexandra Petrakov shared his expectations from the upcoming friendly match against Borussia Mönchengladbach.



– Does Borussia's style of play resemble that of Scotland or Wales?
– Borussia is similar in scheme, they play 3-5-2, somewhere they switch to 4-3-3. So does the Scottish team. It would be good if our legionnaires, the main players, would come. But now it is also very important. Let's play, the guys understand everything. We tell them how to play, we have time. Borussia Dortmund are very good opponents and play in the same way as the Scots.



– People with Ukrainian passports can come to the match for free. Why did you do this and do you plan anything else for the fans at the match?
– It was the host's decision. The Irish will also provide two thousand free tickets for our fans to the League of Nations match. This is very good, because people were traveling with packages, nothing was left in the country. It's good that they will come, cheer for their guys, support. We are also very grateful to the leadership of Borussia, the head coach, the players that they agreed to play this match with us and help us.



– What shape are the Dynamo and Shakhtar players in now?
– I like that everyone is given in training. No one whines, no one says anything. And to say what form they are in … everything is going fine.



– Did you manage to communicate with the fans in Germany?
– When we arrived, we were shot very well. I am experienced, I immediately see that they treat us well, wish good. I never thought that I would be in Germany, the Germans would wish me well, and my "brothers" would kill us. But everything will be fine.



– Do you keep in touch with the legionnaires, what is their mood?
– Just yesterday I spoke with Yarmolenko, we laughed a little. Sometimes you have to laugh, because the roof is tearing. Everything is fine, Andrey leaves on May 23 for the national team. I asked him if the weekend would be needed, he said no, he would immediately come with Mikolenko. I'll call Zinchenko today. I talk to all the guys, every week. You don't need much either, otherwise they will come and say: "Vasilich, you won't let us get bored." The guys are doing well, the main thing is that there should be no injuries. On May 12, we will send the final challenge to the legionnaires.



– How do you defuse the atmosphere in the team?
– We are athletes, we cannot use traditional methods. God willing, on June 14 we will relieve stress in Lodz (match with Ireland in the League of Nations – approx.).



– Will there be a big rotation tomorrow?
– Tomorrow everyone will play, there are no restrictions. We have 17 outfield players. Tsygankov can't play yet. Gutsulyak will go home, he has an injury, fell out for two weeks. Viktor Kornienko was also injured and did not come to the national team. Sergey Krivtsov did not play for half a year, he just started his recovery.


Lunin? Let there be intrigue, I talked to him yesterday. The wife gives birth, there will be a boy. A boy was born to Sidorchuk, to Sobol. My mother also told me that more guys are born in the year of the war.



– Will Petryak, Makarenko and Shabanov be summoned?
– These players will not be called.