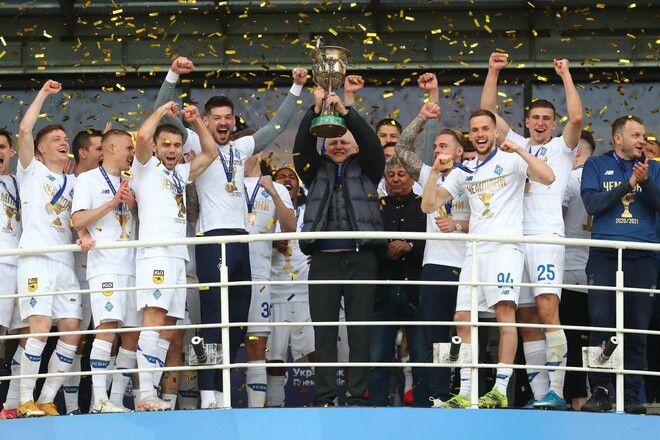 Dynamo Kyiv celebrates the 95th anniversary of its founding on May 13. President of the Ukrainian club Igor Surkis congratulated everyone on a significant date.
"Today Dynamo Kyiv turns 95 years old. On this occasion, one could recall that from the first day of its existence to this day, the team has always performed under its name in the same white and blue uniform and is fighting for victory in all the tournaments in which it participates. But today something else is being mentioned – this year, for the second time in its almost century-long history, Dynamo Kiev did not finish the championship. This happened for the first time in the summer of 1941, when the football championship was interrupted by the attack of the German invaders. Now the championship is suspended due to the attack of the Russian invaders.
None of the players, coaches, employees of the football club "Dynamo" (Kyiv) had and there is no doubt that the aggressors who attacked our land on February 24, 2022 will face the same fate as the aggressors who attacked us 22 June 1941. We all did not doubt for a minute and do not doubt our complete victory over the enemy. And that is why we are working each in our place to keep Dynamo Kyiv in these difficult times of terrible trials. Thanks to this, football players and coaches of not only the first team, but also youth, youth and children's teams of the club can continue training. The main team has held and will hold a number of charity matches in different European countries. The best Dynamo players are preparing as part of the Ukrainian national team for the qualifying matches of the world championship. The infrastructure of the club is also maintained in good condition. And as soon as it becomes possible, Dynamo Kyiv will continue playing on the football fields of Ukraine in front of Ukrainian fans!
Unfortunately, we do not yet know when this will happen. We can say one thing for sure – Dynamo Kiev was, is and will always be. Together with its fans, the team will pass this test with honor, as it has withstood other challenges of history before.
The 95-year history of Dynamo Kyiv's football victories has been and will always be an integral part of the history of Ukraine, which began not in 1991, but a thousand years earlier and will continue despite all our enemies! With the support of our fans, we will continue this story with new victories!
Glory to Ukraine!" the official website of the club quotes Surkis.