Shakhtar midfielder Mykhailo Mudryk is now well-known. Rather, it's not even like that: it "tears" our current information space, which has become quite unaccustomed to positive emotions and epithets during the months of the war.
The young Pitmen's talent added another whist in his favor after the sparring of the national team of Ukraine against Borussia Gladbach. In the game against the German club, Mikhail made his debut in the main team of the country – and immediately "hero of the day." Mudrik – "car", "phenomenon", "man". There are at least a dime a dozen such and similar characteristics about the 21-year-old Shakhtar player now. And don't say you don't deserve it. Deserved, what is there. His game against Borussia is really powerful and fresh. And really not a boy, but a husband.
In principle, the last six months of Mudrik can be safely called the main Ukrainian football progress. Let me remind you that this guy was recognized by the fans of the Donetsk club as the best player of Shakhtar in November and December. In addition, it was Mikhail who received a standing ovation at the Santiago Bernabeu from the local fans after the game – lost by Shakhtar – with the "royal club".
In general, Mudrik honor and respect. Definitely. And if necessary, I will put my five or how many kopecks into the common unctuous choir glorifying our young football talent, I will also insert. No extra punctuation marks.
But I would not be in a hurry to repeat after the Pitmen's former (or still acting?) head coach De Zerbi the mantra that Mykhailo Mudryk will win the Ballon d'Or in the near future. As well as not in a hurry to spread that Mudrik needs to leave Shakhtar with a bloody nose. I will try to explain below.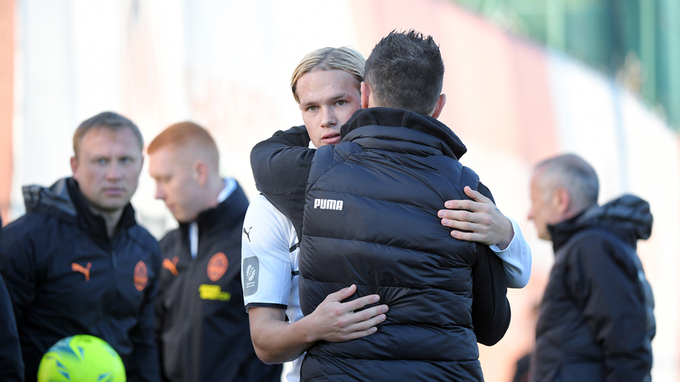 FC Shakhtar. Mikhail Mudrik and Roberto De Zerbi
***
The fact is that this guy was always in sight. And not necessarily that "view" is purely football. He attracted general attention three or four years ago, when he took his first steps in "adult" football. After all, as often happens with us: if a kid at the age of 17-18 makes his debut for Shakhtar or Dynamo, then that's it: a clear talent, a clear player for the first team. Well, and so on.
Frankly, then, in 2018-2019, I personally did not see anything truly outstanding in Mudrik's game. And not because I see badly, but rather because our today's hero did not "depict" in the best way. He was not then ready to play for the first team of Shakhtar. That's why he went on loan. First – in Kyiv "Arsenal", which has sunk into oblivion, then – in "Desna".
And there, and there Mikhail was distinguished, first of all, by a cool hairstyle. Not my personal characteristic. My daughter, who is plus or minus his age.
And he was distinguished by an excellent ability to mint the ball. Well, what is called football freestyle. I saw it in person, I appreciate it. And, they say, his social networks are "very pumped." Again, according to my daughter. And I unconditionally trust her in these matters.
That, in fact, is all about the early football talents of the "early" Mikhail Mudrik. According to rumors, sometimes he had problems with "game discipline" (especially when he was a player in the Chernihiv team), but who among us did not have such problems in his youth?
On this occasion, it is generally accepted that the coaches who worked with Shakhtar before De Zerbi (Fonseca, Castro) failed (or did not want to) find an approach to Mudrik. But signor Roberto took it – and found it. So he's good, and those two are bad.
No, it doesn't. From the word "absolutely". Because the Shakhtar that is "Portuguese" and the one that until recently was (or tried to be) "Italian" are completely different teams. There were Tyson and Marlos in all their glory, Solomon and Tete on the way. In that team, Mudrik simply did not "go out tall." He needed to grow up corny, acquire "muscle mass". Become football wiser, sorry for the tautology. And more evil, sorry for the frankness.
And here it is necessary to pay tribute to Mikhail: the lease did not break him. Unlike, say, the equally talented Vakula. They hardened him. And then De Zerbi appeared, who completed the cutting of the diamond: he became a more team player, in addition to speed, he had a "thought" and vision of the field. In general, the guy really grew in these six months. And he certainly would have grown even more if not for the war. And now, it seems to me, it's time to answer the main question regarding Mudrik: does he need to leave Shakhtar.
***
If everything was fine with us, that is, the katsapstan did not invade our land, and the championship was held according to the schedule, Mudrik would continue to be recognized as the player of the month. This is at least. And there was no question of any sale of a football player who extended the contract with the club until the end of 2026. But now the situation is radically different. Shakhtar needs to stay afloat – due to the loss of the main business by the owner of the club, and, as a result, due to the outflow of foreign players. The Pitmen are now giving away their "liquidity" clearly at bargain prices. For example, Neres goes to Benfica for "ridiculous" money (given the level of this Brazilian, and for what amount he was bought from Ajax). And Mudrik may turn out to be another "perishable" commodity on the miner's "shelf".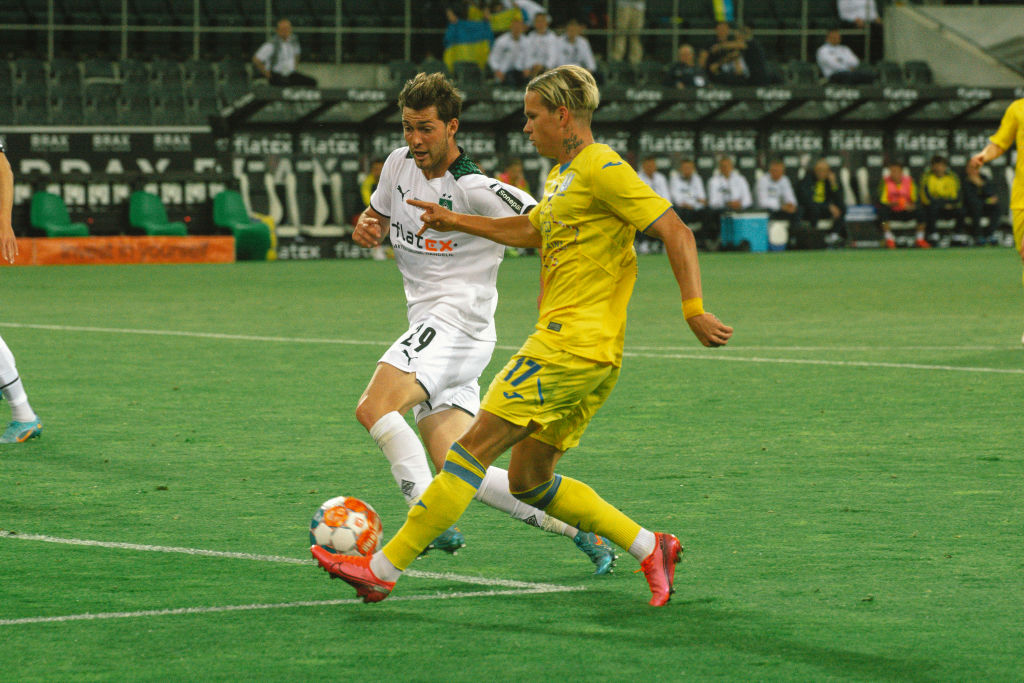 It is said that Brentford, Bayer, Milan and Benfica are showing increased interest in him. The first and last clubs from this list are unlikely to suit Mikhail purely in terms of "profile" indicators. Yes, and in terms of club claims, there may also be questions. "Milan" and "Bayer" is another matter: both teams are focused on the spectacle, on the attack, both guaranteed themselves the Champions League next season. But the point is that even in the case of an engagement in Milan or Leverkusen, Mikhail is unlikely to be able to join the base. There competition is very, very serious. And no one canceled acclimatization and adaptation. Especially at such a tender age.
Yes, if the guy himself intends to definitely leave, and the conditional Bayer can offer for him by no means conditional twenty million euros, well, only in this case can you let him go. If the financial situation of Shakhtar is indeed very difficult, and at some point in the negotiations, the nerves may not be able to withstand…
But if not everything is so bad, then, in my opinion, it is better for Mudrik to stay. It's hard for me to say where the new UPL season will be played. And will it play at all? But I don't doubt that Shakhtar will play in the Champions League group in the new season. And in that Shakhtar, Mudryk, with the right approach, can play first fiddle in the team. In a team that consisted almost of Ukrainian football players. In a team that actually personifies Ukrainian club football. He still has something to prove at Shakhtar. And there is room to grow. After all, he is an elegant plant, requiring special care, and not a common comb.
Let it stay. He is able to reach a new quality level with Shakhtar as well. And in this case, the conditional "Bayer" will not go anywhere from him.