Youth national team of Ukraine U-21 in June, he will play the final four fights in his qualifying group for the European Championship 2023.
March qualifying matches Euro-2023 U-21 in Group H, Armenia-Ukraine and Ukraine-France were rescheduled. Later, UEFA scheduled these matches for June 12 and 9, respectively. In anticipation of the blue-yellows, matches of the 9th and 10th rounds of qualification will be held – against the Faroe Islands (June 1) and North Macedonia (June 5).
It became known that the blue-yellows will play their home matches against North Macedonia and France in Istanbul at the Esenyurt Nejmi Kadioglu Arena (capacity 4500 spectators), where the local Istanbulspor plays its games.
As for the away matches of the wards Ruslana Rotanyathe Faroe Islands-Ukraine match will take place in Torsgavn at the Torsvollur stadium (beginning at 20:00 Kyiv time), and the Armenia-Ukraine game will take place at the Yerevan Football Academy stadium (beginning at 18:00 Kyiv time).
Euro-2023 U-21 qualification
Group H standings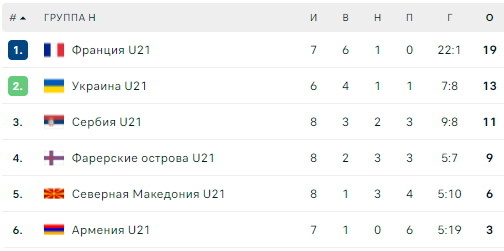 01.06.2022
02.06.2022
France – Serbia

North Macedonia – Armenia
05.06.2022
Ukraine – North Macedonia
06.06.2022
07.06.2022
09.06.2022
12.06.2022
In the final part of Euro 2023 U-21, 16 teams will perform – Romania and Georgia as the hosts of the tournament and 14 more teams that will join them according to the results of the qualification (9 group winners, the best team among the runners-up and 4 play-off winners, in in which 8 runners-up will play).
Playoffs: September 20–27, 2022 Final tournament: June-July 2023.
The matches of the tournament with the participation of 16 teams will take place in four stadiums in Romania (two in Cluj-Napoca and two in Bucharest) and four in Georgia (in Batumi, Pot and two in Tbilisi). The opening match will take place in Romania and the final in Georgia.