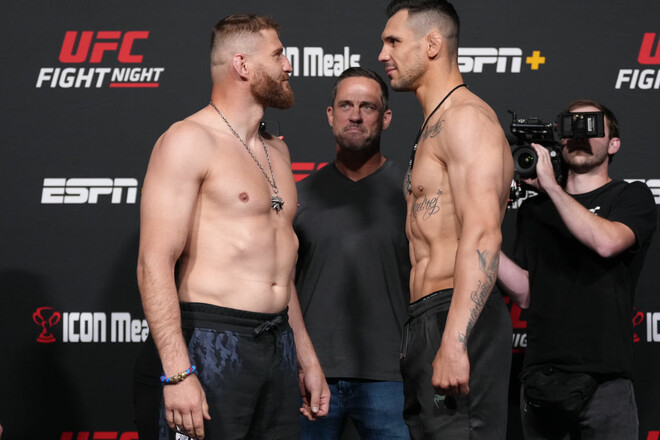 The fight will take place on May 15 in Las Vegas (Nevada, USA) at the UFC Apex complex and will become the main event of the UFC on ESPN 36 tournament. The estimated start of the fight is 07:30 Kyiv time. The fight will be broadcast live on Setanta Sports.
Former UFC Light Heavyweight Champion, UFC Division 1 Jan Blachowicz (28-9) will take on No. 3 Alexander Rakic ​​(14-2). This fight was originally supposed to take place on March 27, but due to Blachowicz's injury, it had to be rescheduled for May.
Blachowicz will return after losing his title, losing to veteran Glover Teixeira in October at UFC 267 by submission in the second round. The Pole has held the UFC title since September 2020, when he won it in a fight against Dominick Reyes by knocking out an opponent. The only time Blachowicz successfully defended the belt was in March 2021 in a superfight against UFC middleweight champion Israel Adesanya, winning the bout with a pretty solid decision.
Rakic ​​is 6-1 in the UFC and has won his last two fights by unanimous decision, first against Anthony Smith and then against Thiago Santos. The fight with Santos took place back in March last year, and since then Alexander has not competed.
Prediction for the fight
Both opponents are quite versatile fighters, but Blachowicz is on the side of experience, better grappling skills and a more powerful punch. But the best years of the ex-champion are already behind.
Rakich can neutralize the danger coming from the enemy on the ground due to his good defense against takedowns. On the stand, Rakic ​​can have an advantage with footwork, height, and variety of actions. We believe that the fans are waiting for five very competitive rounds, according to the results of which the Austrian native will be named the winner.
Rakic ​​win on points