On May 17, the Ukrainian youth team in Istanbul will begin preparations for the final matches of the Euro 2023 (U-21) qualifying tournament against the Faroe Islands, North Macedonia, France and Armenia.
Mentor of Ukrainians Ruslan Rotan announced the composition of our team for four fights.
The composition of the youth team of Ukraine
Goalkeepers: Anatoly Trubin (Shakhtar Donetsk), Ruslan Neshcheret (Dynamo Kyiv), Kirill Fesyun (Kolos Kovalevka).
Defenders: Anton Bol, Konstantin Vivcharenko (both – Dynamo Kyiv), Alexander Drambaev (Mariupol Mariupol), Alexey Sych, Roman Didyk (both – Rukh Lvov), Dmitry Kapinus (Metalist 1925 Kharkiv), Maxim Taloverov ("Slavia", Czech Republic).
Midfielders: Georgy Sudakov, Artem Bondarenko (both Shakhtar Donetsk), Vladimir Brazhko (Dynamo Kyiv), Arseniy Batagov (Polesie Zhytomyr), Daniil Alefirenko, Maxim Khlan (both Zarya Luhansk), Eldar Kuliev (Minai), Nikolai Mikhailenko, Maxim Bragaru (both Chernomorets Odessa), Dmitry Kryskiv (Metalist 1925 Kharkiv), Ivan Zhelizko (Valmiera, Latvia), Bogdan Biloshevsky (Alexandria).
forwards: Vladislav Vanat (Dynamo Kyiv), Vladislav Supryaga (Sampdoria, Italy), Nikolay Kukharevich (Leuven, Belgium), Bogdan Vyunik (Zurich, Switzerland).
The Blue-Yellows will play their home matches against North Macedonia and France in Istanbul at the Esenyurt Nejmi Kadioglu Arena (capacity 4,500 spectators), where the local Istanbulspor plays.
As for both away matches of Ruslan Rotan's wards, the Faroe Islands-Ukraine match will be held in Torsgavn at the Torsvollur stadium (beginning at 20:00 Kyiv time), and the Armenia-Ukraine game will take place at the Yerevan Football Academy stadium at 18:00 in Kyiv).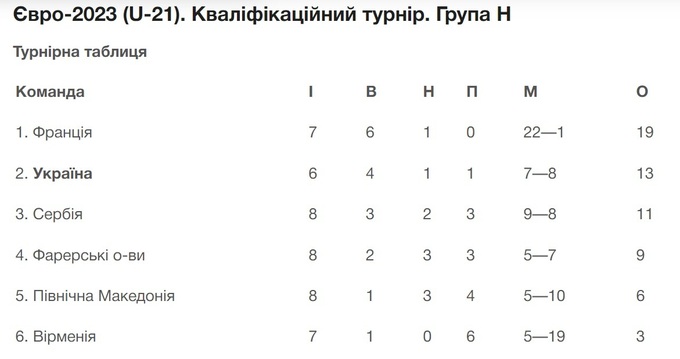 01.06.2022
Faroe Islands – Ukraine.
02.06.2022
France – Serbia
North Macedonia – Armenia
05.06.2022

Ukraine – North Macedonia
06.06.2022
Armenia – France
07.06.2022
Faroe Islands – Serbia.
09.06.2022

Ukraine – France
12.06.2022
Armenia – Ukraine
In the final part of Euro 2023 (U-21) there will be 16 teams – Romania and Georgia as the hosts of the tournament and 14 more teams that will join them according to the results of the qualification (nine group winners, the best team among the second-place winners and four play-off winners). off, in which eight runners-up will play).
Playoffs: September 20-27, 2022.
Final tournament: June/July 2023