On world championship 2022 in football among players with ORA (musculoskeletal system) impairment, which was held in the Spanish city of Salou, the Paralympic team of Ukraine won gold medals.
In previous matches of the tournament, the blue-and-yellows won three victories and took first place in group D. Then, in the quarterfinals, the Ukrainian team confidently defeated Ireland (5:1), and in the semifinals they defeated the US team (5:1) with the same score.
On May 15, in the final, the Ukrainians defeated Iran. (1:0).
Konstantin Simashko, Bogdan Dembik, Ivan Donenko, Yaroslav Chernysh, Artem Sheremet, Serhiy Bedenok, Stanislav Podolsky, Artem Krasilnikov, Vitaliy Trushev, Bohdan Kulinich, Ivan Shkvarlo, Vitaliy Romanchuk, Oleg Len performed at the forum as part of the Paralympic football team of Ukraine. Coaches – Sergey Ovcharenko and Taras Dutko.
The Ukrainian national team among players with disabilities of the musculoskeletal system has consistently returned with medals from the last 11 world forums. Including blue-yellow are the winners of five world championships (2001, 2003, 2009, 2013, 2017). The current trophy was the sixth.
2022 FIFA World Cup among players with ORA losses
Salou (Spain), May 2022
group round
05/01/2022 Spain – Ukraine – 0:5 (0:4)

05/04/2022. Northern Ireland – Ukraine – 0:7 (0:4)

06.05.2022. Ukraine – Argentina – 5: 1 (2: 1)
Leaderboard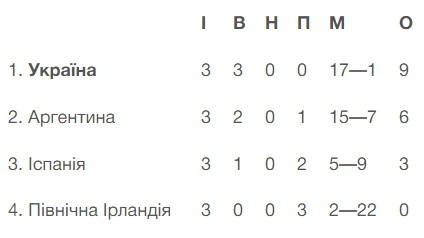 Quarterfinal, 09.05.2022
Ukraine – Ireland – 5: 1 (0: 0)
Semifinals12.05.2022
Ukraine – USA – 5:1 (2:0)
Final15.05.2022
Iran – Ukraine – 0:1 (0:1)
Goal: Donenko, 13.