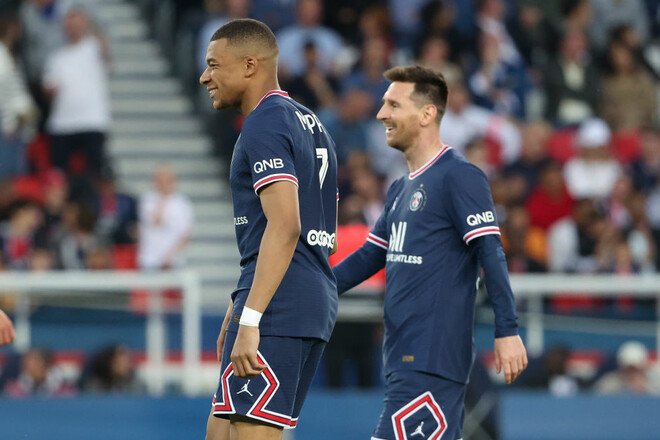 In the match of the 37th round of the French championship, PSG defeated Montpellier with a score of 4: 0.
Lionel Messi scored twice, Angel Di Maria scored once. Kylian Mbappe also scored (from the penalty spot), who also gave two assists.
Previously, PSG had already secured first place, a few more rounds before the end of the championship.
League 1. 37th round
Montpellier – PSG – 0: 4
Goals: Messi, 6 (0:1). Messi, 20 (0:2). Di Maria, 26 (0:3). Mbappe, 60, penalty (0:4)
Bordeaux – Lorient – 0: 0
Lyon – Nantes – 3: 2
Goals: Dembele, 9 (1: 0). Lucas Packet, 78 (2: 0). Merlin, 81 (2: 1). Tete, 85 (3: 1). Cyprus, 90 + 2 (3: 2)
Metz – Angers – 1: 0
Goal: Lamkel See, 50 (1:0)
Monaco – Brest – 4: 2
Goals: Duverne, 10 (0:1). Belaili, 23 (0:2). Ben Yedder, 44 – from the penalty spot (1:2). Ben-Yedder, 51 (2:2). Ben Yedder, 54 (3:2). Volland, 70 (4:2)
Rennes – Marseille – 2: 0
Goals: Burigo, 12 (1:0). Mayer, 35 (2:0)
Nice – Lille – 1: 3
Saint-Etienne – Reims – 1:2
Strasbourg – Clermont – 1: 0
Troyes – Lance – 1: 3