The winner of the Women's European Football Championship 2022 WU-17 has been determined, which was held from May 3 to 15 in Bosnia and Herzegovina.
In the final match, the German national team beat the Spanish team on penalties (2:2, pen. 3:2).
In the fight for third place, France defeated the Netherlands team (2:0).
Women's Euro 2022 WU-17
May 3-15, Bosnia and Herzegovina
Group A
03.05. Denmark – Germany – 0: 2

03.05. Bosnia and Herzegovina – the Netherlands – 0:8

06.05. Bosnia and Herzegovina – Denmark – 0: 6

06.05. Germany – Netherlands – 2: 0

09.05. Germany – Bosnia and Herzegovina – 2: 0

09.05. Netherlands – Denmark – 1: 1
Group B
03.05. France – Finland – 2:0

03.05. Norway – Spain – 0: 4

06.05. Spain – Finland – 4:0

06.05. France – Norway – 1: 0

09.05. Spain – France – 3: 0

09.05. Finland – Norway – 2:1
Group Tournament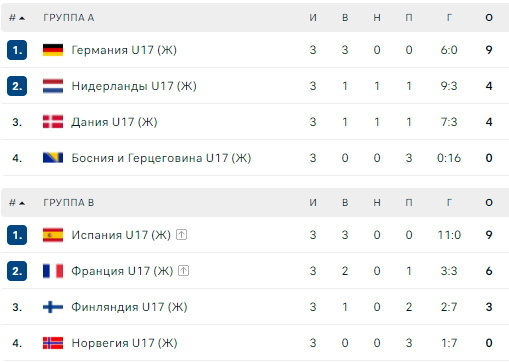 Playoffs
Semifinals
12.05. Germany – France – 1: 0

12.05. Spain – Netherlands – 3: 0
For third place
15.05. France – Netherlands – 2: 0
Final
15.05. Germany – Spain – 2: 2 (Pen. 3: 2)