Last week the girls played the WTA 1000 clay tournament in Rome. In the capital of Italy, the first racket of the world Ige Sviontek managed to defend the title, which continues to lead by a huge margin.
Ons Jaber reached the final, the 27-year-old Tunisian continues to update her personal records, now she is sixth. Karolina Pliskova fell by two positions, letting Arina Sobolenko forward as well. There are no more changes in the top ten.
Top 10 WTA Rankings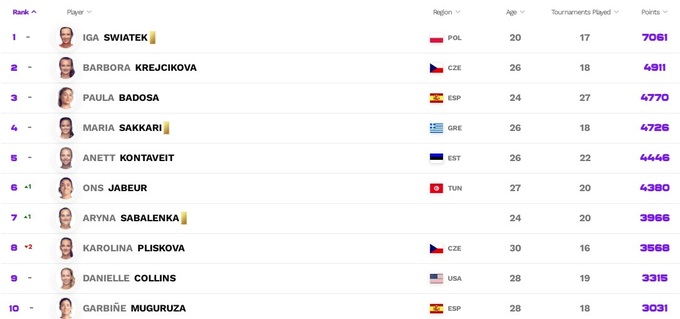 As for the Ukrainians, Elina Svitolina, who announced her pregnancy yesterday, flew out of the top 30. In the next year and a half, her rating is unlikely to interest anyone.
The rest of the Ukrainians from the first hundred retained their positions. Daria Snigur has risen well, she has plus 10 lines. Also noteworthy is +42 from Anastasia Soboleva. The rest of the changes are less significant.
Ukrainian women in the WTA ranking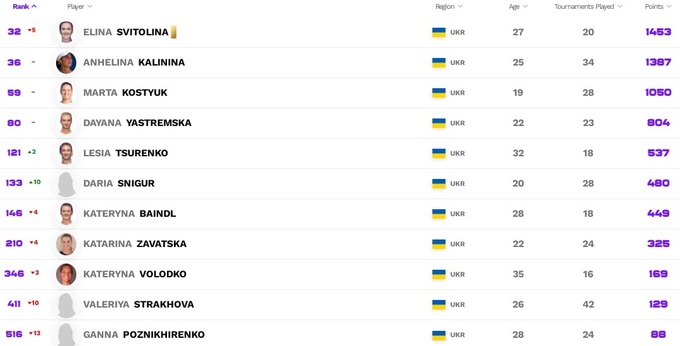 In the Championship race, the top three remained unchanged. Maria Sakkari from Greece moved from fifth to fourth.
WTA Championship Race

The positions of Ukrainian women have not changed much.
Ukrainian women in the WTA Championship race