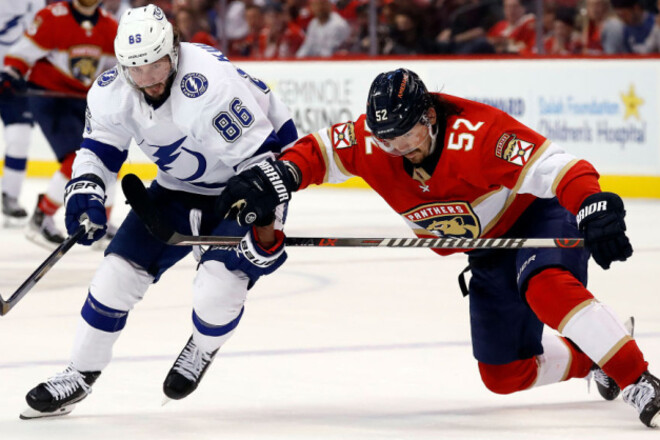 The second round of the playoffs has begun in the NHL. Tampa Bay, which is looking to win a third straight Stanley Cup, opened the battle with Florida with a win.
The Lightning missed first, but were successful in converting the majority. The team scored three goals in numerical advantage and won 4:1.
In another match, Colorado beat St. Louis 3-2 thanks to a decisive goal in the first overtime.
NHL playoffs. Second round
Florida – Tampa Bay 1:4 (1:0, 0:1, 0:3)
Puck: 14:01 Duckler – 1 (Huberdo, Montour) – 1: 0, 36:22 Perry – 3 (Kucherov – more) – 1: 1, 43:33 Bellmar – 2 (Perry, Maroon) – 1: 2, 55:54 Kucherov – 3 (Hedman, Stamkos – more) – 1: 3, 57:44 Colton – 4 (Paul, Sergachev – more) – 1: 4
Goalkeepers: Bobrovsky – Vasilevsky
Throws: 34 – 36
Tampa Bay leads 1-0 in series

Colorado – Saint Louis 3:2 (in the first overtime) (0:1, 2:0, 0:1, 1:0)
Washers: 06:25 O'Reilly – 6 (Schenn) – 0:1, 23:14 Nichushkin – 3 (McKinnon, Rantanen) – 1:1, 31:32 Girard – 1 (Manson, Landeskog) – 2:1, 56:46 Kairu – 4 (Falk – big) – 2:2, in the first overtime 08:02 Manson – 1 (Landeskog, Kadri) – 3:2
Goalkeepers: Camper – Binnington
Throws: 54 – 25
Colorado lead 1-0 in series