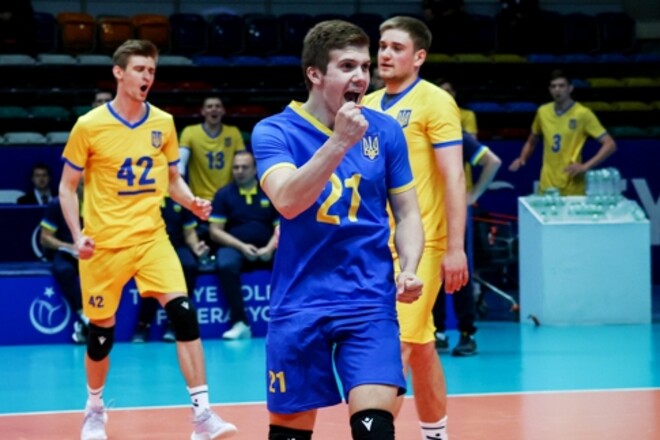 In Ankara, Turkey, on Thursday, the qualifying tournament for the European Championship in volleyball among the youth teams of group C in the age category under 22 began. In the first match, the Ukrainian team met with their peers from Denmark.
Having lost two points at the start of the match, the Ukrainians immediately managed to score eight in a row and already took the lead 8:2. Having such an advantage, our guys began to act more confidently and brought the game to a positive result without any problems – 25:13.
The second set turned out to be a little more stubborn, although Vladimir Romantsov's men were constantly ahead, increasing the gap from their rivals – 5:2, 7:4, 13:8, 17:10. It was clear that here, too, our guys would not miss their chance. And so it happened – 25:15.
And the Ukrainians won the third game without any problems, having achieved a noticeable advantage at the very beginning – 5:1. Then it was only necessary not to miss it, which was done by the yellow-blues – 10:6, 14:10, 17:12, 21:15 and 25:20. As a result, the first and quite confident victory in the tournament with a total score of 3:0.
The national team of Ukraine played in the following composition: Daniil Gritsenko (scored 7 points), Stas Zalisko (1), Nazar Hetman (13), Vladislav Shchurov (6), Daniil Uryvkin (10), Artem Troyanovsky (4), Yaroslav Pompushko (libero) – starting. The replacements were: Ivan Bilyuk (2), Nikita Zolotukhin (1), Andrey Ratushnyak (1), Christian Prisakar (0).
Qualifying tournament for the European Championship. Men. U-22
May 19. Ankara (Turkey)
Team Ukraine U-22 – Team Denmark U-22

3:0 (25:13, 25:15, 25:20)
A little later today, two more teams from Group C, Turkey and Iceland, will play. And tomorrow, on May 20, the Ukrainian team will play its second match in the tournament with Icelandic volleyball players. The game starts at 16.00 Kyiv time.