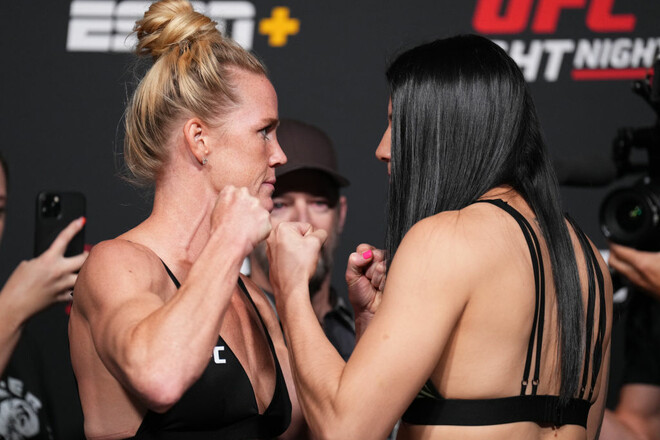 The fight will take place on May 22 in Las Vegas (Nevada, USA) at the UFC Apex complex and will become the main event of the UFC Fight Night 206 tournament. The estimated start of the fight is 04:00 Kyiv time. The fight will be broadcast live on Setanta Sports.
Former UFC bantamweight champion Holly Holm (14-5) will take on No. 5 Kathleen Vieira (12-2), now No. 2 in the division.
Holm lost five out of seven fights between 2016 and 2019, but now the 40-year-old Preacher's Daughter is on a two win streak from 2020's unanimous decision wins over Raquel Pennington and Irene Aldana. In 2021, Holm had health problems, which forced the cancellation of two fights with her participation.
Vieira in November 2021 won by unanimous decision against Mischa Tate, who took the UFC title from Holm, thereby closing the defeat of Yana Kunitskaya.
Prediction for the fight
It is not known how the long pause will affect the 40-year-old Holm, who previously had no problems with endurance. We believe that even now the always disciplined professional Holm will be able to confidently fight all five rounds. In the stand, she simply has to dominate her opponent, whose strength is grappling.
Vieira is really very strong on the ground, a lot of this fight will depend on Holm's form and her ability to defend against takedowns. We believe that Holly will be able to get away from the vast majority of attempts to get to the feet performed by the Brazilian and eventually win by decision.
Holm win on points