May 21 at 10:00 p.m. championship of France at the same time, the matches of the last 38th round are held.
PSG became the champion ahead of schedule (83 points), the most interesting question is who will take second place, Monaco or Marseille (68 points each), and thus receive a ticket to the Champions League group stage. In case of equal points, goal difference is taken into account (now Monaco has a difference of +4 better). 3rd place will mean Champions League qualification starting from the 3rd round.
Nantes was guaranteed to qualify for the Europa League group stage as the winner of the French Cup. One more place in the LE group is left for the 4th team of the championship, and the 5th place will play in the Q4 Conference League. Rennes (65), Strasbourg, Nice (63 each) and Lens (61) claim to enter European competition.
Among the underdogs, Bordeaux have no chance of survival due to poor goal difference, while Metz and Saint-Étienne are fighting for 18th place, which will allow them to play transitional matches with Ligue 2 representative Auxerre.
League 1. 38th round, May 21
22:00. Angers – Montpellier

22:00. Brest – Bordeaux

22:00. Clermont – Lyon

22:00. Lance – Monaco

22:00. Lille – Rennes

22:00. Lorient – Troyes

22:00. Marseille – Strasbourg

22:00. Nantes – Saint-Étienne

22:00. PSG – Mets

22:00. Reims – Nice
Tournament table after the 37th round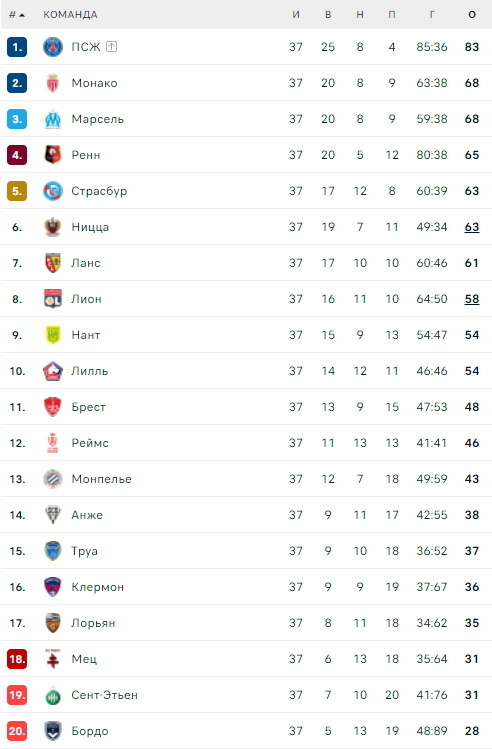 22:00. Roll call (multifeed) of matches
22:00. Angers – Montpellier
22:00. Brest – Bordeaux
22:00. Clermont – Lyon
22:00. Lance – Monaco
22:00. Lille – Rennes
22:00. Lorient – Troyes
22:00. Marseille – Strasbourg
22:00. Nantes – Saint-Étienne
22:00. PSG – Mets
22:00. Reims – Nice