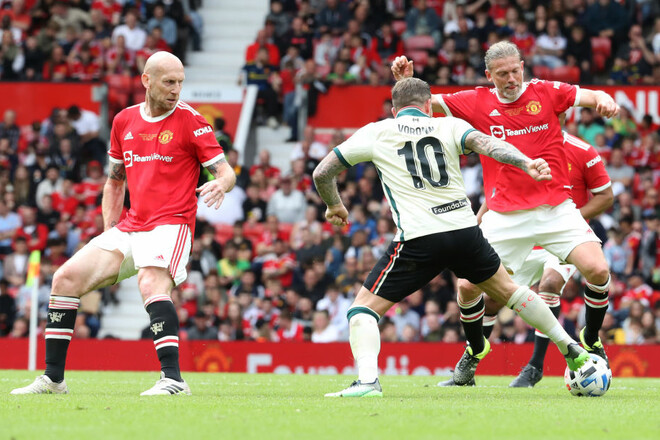 Andrey Voronin took part in the duel between the legends of Liverpool and Manchester United, which took place on Saturday at Old Trafford. The 42-year-old Ukrainian played in the first half for Liverpool, failing to score. The match ended with a 3-1 victory for Liverpool. As part of the winners, Luis Garcia and Mark Gonzalez distinguished themselves, who scored a double, and Dimitar Berbatov scored a goal for the home team.
Manchester United squad: Van der Gou, Neville, Stam, Jensen, Evra, Poborski, Valencia, Butt, Blomkvist, Bermatov, Saha
The replacements were: Fortune, Webber, Pilkington, O'Shea, Sylvester and Brown.
Liverpool squad: 1st halfCast: Dudek, Kvarme, Carragher, Xavier, Aurelio, Pennant, Diao, Le Tallec, Rodris, Downing, Voronin
2nd half: Westerfeld, Wright, Carragher, Vinyal, Enrique, Benayoun, Garcia, Sissoko, Gonzalez, Pongolle, Kuyt.


Andrey Voronin played for Liverpool in the 2007/08 season and also spent half of the 2009/10 season at Anfield Road. In total, he has 27 matches for Liverpool in the Premier League, in which he scored 5 goals.