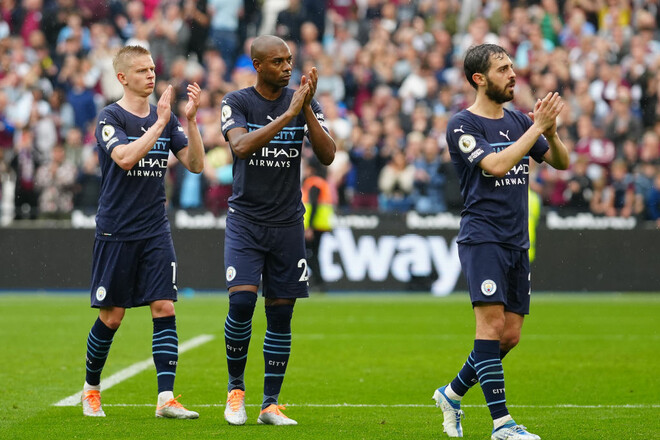 The fate of the championship title in the Premier League will be decided in the final, 38th round. All matches will start at the same time – at 18:00 Kyiv time.
"Manchester city"
Manchester City are approaching the last round of the Premier League as the leader of the Premier League – the fate of gold medals is completely in the hands of Pep Guardiola's team. However, the situation for Alexander Zinchenko and the company is very tense.
A 2-2 draw against West Ham last Sunday made things much more difficult for Manchester City. Now the defending champion is approaching the final round with only a 1-point advantage over Liverpool: any mistake, any loss of points can cost Guardiola's wards the title.
Manchester City are approaching the decisive match of the season with tangible personnel problems in defense. Rubén Dias, John Stones and Kyle Walker will not be able to play with Aston Villa due to injuries.
Aston Villa
"Aston Villa" the main task for the season, to escape from relegation, has long been completed and confidently. The team from Birmingham can no longer drop below 14th place, mathematically, in the last round, Aston Villa can immediately rise to 10th place, but there is no fundamental difference between 10th and 14th place – it's still not up to the European Cup zone reach out.
Having lost tournament motivation, Aston Villa scored only two points in the last three rounds. It would seem that the probability of losing points for City is minimal? Not certainly in that way.
Pepper to this match is given by the person of the head coach of Aston Villa, Steven Gerrard. As a Liverpool player, the legendary midfielder was never able to bring the club the Premier League title, and will certainly do everything possible to give the club the title of his life by taking points from City. Another thing is that Gerrard's desire alone may not be enough.
Meeting history
Manchester City and Aston Villa have played 94 games in their history. More than double the advantage on the side of City: 48 wins against 23. Another 23 matches ended in a draw. Goal difference – 160 – 103 in favor of Manchester City.
Forecast for confrontation
Manchester City fans know better than anyone that miracles and upheavals in the standings can happen in the last round of the Premier League. But still, too much speaks in favor of the fact that everything will end prosaically – with a victory and a championship for Pep Guardiola's team. The odds for City to win the match are 1.16.
May 22, Sunday
Manchester City – Aston Villa
Manchester. Etihad Stadium. 18:00
Live TV broadcast – Setanta Sports Ukraine
Forecast Sport.ua – 2: 1