May 22 at 6:00 p.m. English Championship at the same time, the matches of the last 38th round are held.
The fate of the championship title in the Premier League is decided on the final game day. Manchester City are 1 point ahead of Liverpool (90 to 89).
Ukrainian defender's team Alexandra Zinchenko a victory over Aston Villa is urgently needed to lift the coveted trophy over their heads. Liverpool need to beat the Wolves and count on the loss of points by the Citizens.
For 4th place and a ticket to the Champions League, Tottenham and Arsenal are fighting in absentia. Due to better goal difference, a draw against Norwich is enough for Spurs.
But Man United needs a victory over Crystal Palace to secure 6th place and a pass to the group stage of the Europa League, which is also claimed by West Ham with Andriy Yarmolenko. From the 7th place, the Hammers will start in Q4 of the Conference League.
Among the outsiders, Burnley and Leeds will determine the third loser of the season, who will fly out of the Premier League along with Watford and Norwich.
APL. 38th round, May 22
18:00. Manchester city – Aston Villa

18:00. Liverpool – Wolverhampton

18:00. Arsenal – Everton

18:00. Burnley – Newcastle

18:00. Brighton – West Ham

18:00. Brentford – Leeds

18:00. Crystal Palace – Manchester United

18:00. Leicester – Southampton

18:00. Norwich – Tottenham

18:00. Chelsea – Watford
Tournament table after 37 rounds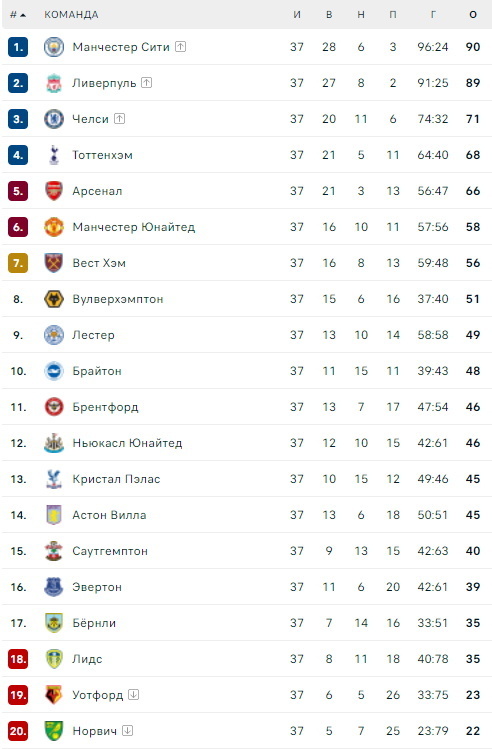 18:00. Manchester City – Aston Villa
18:00. Liverpool – Wolves