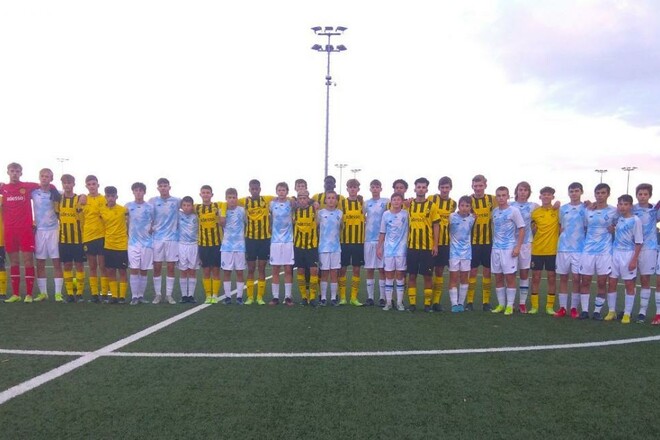 On Wednesday, September 28, the team Dynamo Academy, age category U15 (footballers born in 2008) held another test match in Germany, where they have been at the invitation of the local FC Cologne for the second month. Here, Dynamo teams can fully train and play friendly matches with leading German academies.
This time the Dynamo players met with their peers from Borussia Dortmundwhose academy is considered the best in Germany.
The game was mainly attended by U15 players led by coach Evgeny Lozinsky, who were joined by several U16 players (coach Yuri Dmitrulin). Dortmund also formed their squad on the same principle. The fight lasted two halves of 40 minutes, turned out to be spectacular and productive.
Friendly match
Borussia U15 – Dynamo U15 – 4:2
"Dynamo": Roenko (Oleynik, 56), Perkatyuk, Konovalov (Galkin, 56), Chubatyuk (Sergienko, 56), Doroshenko (Panimash, 41), Romanyuk (Belevyat, 52), Lyusin (Kushenko, 41), K. Rybak (Bogomolov, 49), Andreiko (Marchenko, 64), Fedorenko, Levrinets-Chirgadze (Kalinkin, 41).
Goals: (37), (47), (52), (74) – K. Rybak (35, pen.), Fedrenko (76)
Missed penalty: Andreiko (30).