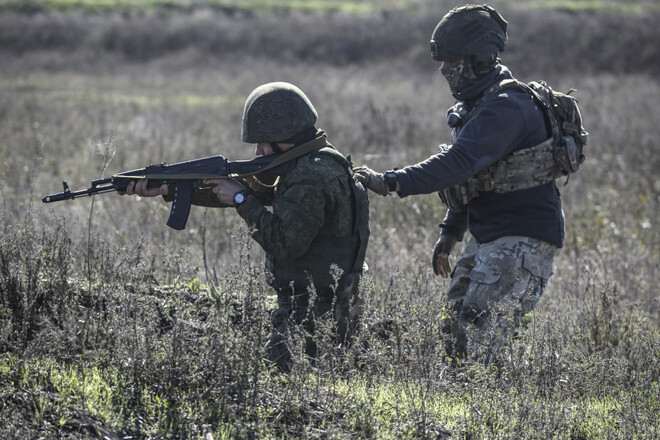 The General Staff of the Armed Forces of Ukraine reports that reinforcements from 500 mobilized criminals have arrived to reinforce the Russian army in the temporarily occupied territory of the Donetsk region.
"The commanders of the newly arrived units were appointed officers from among the former Russian law enforcement officers. The command of the Russian troops issued an order to confiscate mobile phones from all arriving mobilized.
Over the past day, the invaders launched 8 missile and 15 air strikes, carried out more than 70 attacks from the MLRS. Three X-22 cruise missiles of the enemy did not reach their targets. Objects and the civilian population of more than 25 settlements suffered from enemy fire. Among others – Novomikhailovka, Zheleznodorozhnoe, Controversial, Davydov Brod, Blagodatovka and Mirnoe. The strikes on Kharkov, Zaporizhia, Nikolaev and Nikopol were made solely to destroy civilian premises and the critical infrastructure of cities.
In the Volyn and Polesye directions, the situation has not changed significantly. In other directions, the enemy carried out shelling:
in the Seversk direction – from cannon artillery, in the areas of the settlements of Boyar-Lezhachi, Mezenovka and Ryzhevka of the Sumy region;

in the Slobozhansky direction – from tanks, mortars and rocket artillery, in the areas of the settlements of Dvurechnoye, Zarubovka, Volchansk, Gatishche;

in the Kramatorsk direction – from artillery of various types, in the areas of the settlements of Spirnoye, Belogorovka, Verkhnekamenskoye, Serebryanka and Rozdolovka;

in the Bakhmut direction, the enemy inflicted fire in the areas of the settlements of Soledar, Bakhmut, Chasov Yar, Kurdyumovka, Experienced, Zaitsevo and New York;

in the Avdeevsky direction, from tanks, mortars, cannon and rocket artillery, the areas of Maryinka, Miner, Vodyany and Novomikhailovka were fired upon.

in the Novopavlovsk and Zaporozhye directions, infrastructure in the areas of the settlements of Novoukrainka, Novodanilovka, Krasnoe, Novoselka, Poltavka and Maly Shcherbaki suffered from enemy shelling.

in the Yuzhnobugsky direction, areas of more than twenty-five settlements along the entire line of contact were subjected to fire damage. Also, the enemy is regrouping troops in this direction.
During the day, the Armed Forces of Ukraine repulsed the attacks of Russian invaders in the areas of the settlements of Vyemka, Krasnoye, Bakhmut, Mayorsk, Veseloye, Pobeda, Nevelskoye, Kamenka and Ternovye Pody.
Our aircraft dealt 23 strikes. There is a defeat of the stronghold, 15 areas of concentration of weapons and military equipment, 7 air defense systems. In addition, our air defense units in different directions shot down more than 20 enemy UAVs, including 5 Orlan-10, 15 Shahed-136 and 1 Mohajer-6.
Rocket troops and artillery hit 5 areas of concentration of manpower, weapons and military equipment, 5 air defense positions, 2 artillery, an ammunition depot and a crossing.