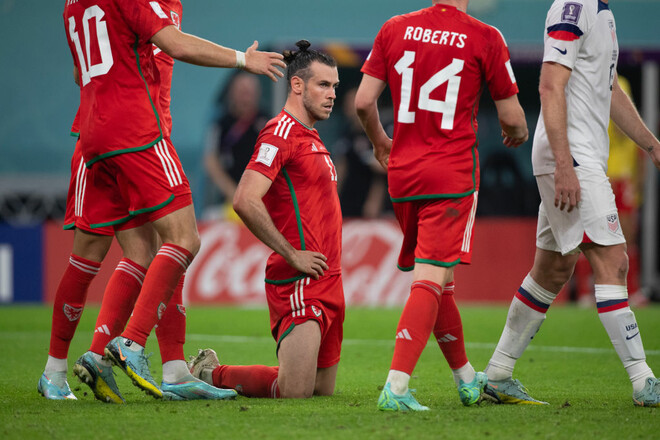 On Friday, November 25, the Ahmed bin Ali Stadium in Ryan will host the 2022 World Cup group stage match between Wales and Iran. The starting whistle will sound at 12:00 Kyiv time.
Wales
It is only the second time in history that the Wales national team has played in the World Cup. For the first time, the Welsh got to the Mundial in 1958, and immediately went to the playoffs, where at the quarterfinal stage they lost minimally (0: 1) to the future champion – Brazil.
All the brightest moments of the match are available in Live mode in Telegram Sport.ua
It is hardly worth reminding Ukrainian fans how Wales got a ticket to the tournament in Qatar, because it was the "blue-yellows" in the final of the playoffs of the European qualification that the Welsh beat with a score of 1:0 thanks to Andriy Yarmolenko's own goal…
In the starting round of the World Cup in Qatar, the Wales team, not without problems, managed to catch a draw in the match with the United States of America (1:1). On the goal of Timothy Weah, who is the son of the President of Liberia, the Welsh responded with an accurate penalty kick by Gareth Bale.
Iran
At the 2022 World Cup, the Iranian national team, like four years ago, is coached by the former assistant of Alex Ferguson at Manchester United, Carlos Queiroz. It is noteworthy that at the 2018 World Cup, the Persian Leopards, led by the Portuguese, finished in third place in the group with Portugal, Spain and Morocco.
Then the mentor spent a little more than six months in his position, and then left, soon leading the Colombian national team. The Iranians failed the opening match in Qatar, conceding 6 goals at once from the founders of football – the British, scoring only twice in response.
Forecast for confrontation
We believe that Wales will win this match. Our bet will be the position – P1 with a coefficient of 2.10 on the Parimatch line.
Estimated compositions
Wales: Hennessy – Rawdon, Mepham, Davis, Ramsey, Roberts, Morrell, Williams, James, Wilson, Bale.
Iran: Hosseini – Moharrami, Purligandji, Kanaanizadegan, Mohammadi, Hajsafi, Cheshmi, Nurollahi, Jahanbaksh, Taremi, Azmoun.
November 25, Friday
Wales – Iran
Er Rayyan. Ahmed bin Ali Stadium. 12:00
WALES – IRAN. ONLINE BROADCAST MATCH
TV streaming and video service MEGOGO
The Sport.ua forecast is 2:1