I finally picked up and played through FromSoftware's Elden Ring. Although I had high hopes, I am quite receptive. This is a huge epic!
A huge world full of unique creatures and formidable opponents, and most importantly, the constant joy of discovery and exploration. Elden Ring has incredibly well executed field design, as every corner and twist and slope and cliff can hold a new treasure or an exciting adventure.
It's no wonder that The Elden Ring won every possible award last year.
At the same time, Elden Ring bothered me a lot, and not for obvious reasons. I wasn't deterred by the suit's ruthless difficulty level, hundreds of brutal and boring deaths among the game's boss opponents. Eh. What bothered me was the game's narrative, or really the lack thereof.
Read also:
The Elden Ring is famous for not opening itself to players. The experimenter learns, the curious explores, and the world tells by showing, not by speaking. And good like that! I think it's good that doesn't reveal secrets told everywhere.
but still. I've never seen a game that actively tries to keep its world hidden.
Read also:
Don't get me wrong! I don't want all my games to be yankee tale style, where every morsel is filled with obvious and oft-repeated exposition so the player doesn't accidentally fall off the wagon.
I also don't want a Japanese narration for every dose of my entertainment, with a three-quarter-long intro that talks a lot but says little.
However, Alden Ring takes things into his own zone. It manages its narrative practically exclusively by hiding bits of its information. They're hidden everywhere, such as a short description of a certain sword or a sentence that opens up when you look at a ring.
The player is practically forced to look for these pieces if he wants to even get to the carriage barracks.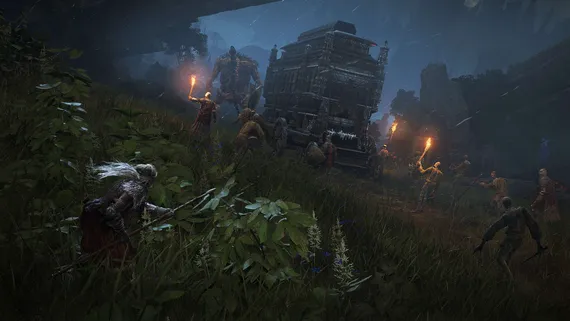 One mystery after another! Why are trolls pulling the caravan? Why do the citizens appear to be starving? Alden Ring piques his curiosity, but then says "Dude!" And laughs at his own wit.
The Elden Ring simply refuses to share its secrets with players who are unwilling to even make the effort to understand the basics. Of course, this also makes the beginning ambiguous, and only with more understanding do you realize what's going on in the beginning?
I find this problematic. I think it would be nice if the player had the opportunity to understand the basics just by playing, and there was additional content for those interested in the story. Instead, you now have to exit the game and go on YouTube to watch an hour-long video if you even want to understand why the protagonist wants to be killed by the gods, or what his motivation is in the midst of all this?
Read also:
And they end… The long, long adventure ends with a short ten-second video featuring your own character sitting on a throne, and the narrator's voice saying nothing more than "The age of period shattering was known as". Wow, how beautifully written! Yes, the heart is really pounding with all the epics here!
And it's not, that's how it works. Of course, the environment tells its own story and the imagination fills in the rest, and from this emergent narrative the most amazing stories can be born.
However, the worst tick is the other characters in the game. There were only a few characters in the game that were even remotely interesting. Communicating with others is a monologue that doesn't connect to anything and doesn't open up a story. Then you suddenly have to choose whether you're interested in the guy's chatter or not. If the answer is no, the task ends. If the answer is yes, a little more monologue follows.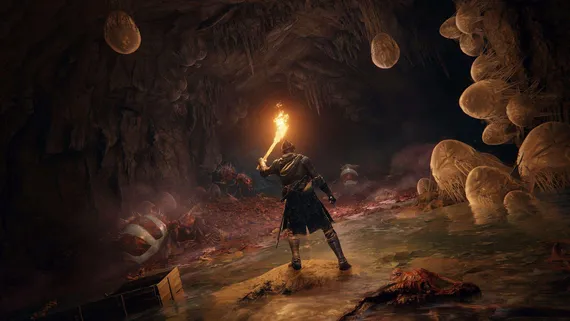 did you want to go here? Or should you have turned left in Albuquerque anyway?
The player isn't even given a rudimentary agenda, just a bunch of loose and cheeky dialogue.
It's followed by vague instructions on what to do, and typical of the game's self-satisfied stealth, the quest path doesn't follow its own steps. A good example here is the Wolf Knight Blade quest chain.
In his first episode, Blade asks to meet at X. Except Blade is on Y. After that, Blade asks to meet at Jade's. Good luck finding it without the help of the internet.
Read also:
Elden Ring is full of quests like this, which are completely lame of narrative. With self-deliberately ambiguous lines, each character in the game remained not only distant, but completely uninterested. It's a shame because all the characters have a great backstory! That great background information isn't shared anywhere, you have to find it online.
Godrich the Grafted. A disgusting jerk who sucks up other people's organs. Why? Can't know Obviously this is also a great honor, isn't it? Worse, the reasons are not shared.
This is bolstered by the fact that, in addition, the game's developers share essential information about the game's characters outside of the actual game in the many interviews given. The only way to understand Alden Ring is to watch all the interviews and videos.
This style of self-intentional hedging with secrets is classic masturbation material aimed at otakus that really bug you. It goes against everything I value as a storyteller and a big consumer of stories.
FromSoftware, you do a lot of things better than anyone else, but now get out there.
Yes, I know, Microbit's Samuli completely disagrees with me, but he is also completely wrong. come at me bro.
read this also